In-person events, webinars, and more for people leaders looking to level-up
Presentation & Discussion (in-person)
Preparing the Workforce for the Impact of AI
June 6, 2023 | 12pm - 2pm EDT
Are you interested in learning about the impact of AI on the workforce? Want to experience one of our signature Giveback activities?
Join Momentum and Happyly for lunch at our WeWork offices in Tysons, VA!

Featuring: Jessica Mitsch Homes, Momentum CEO & Co-Founder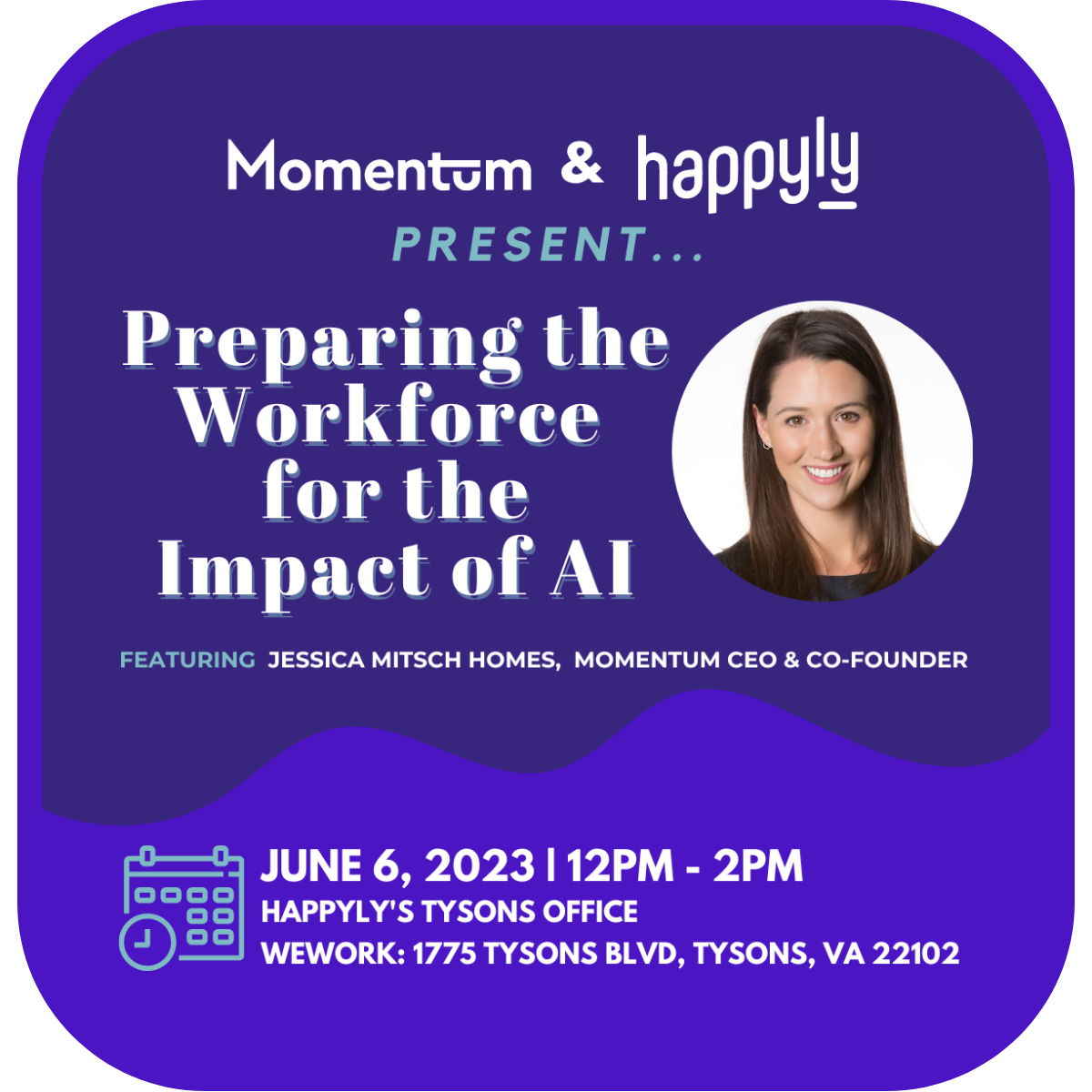 Panel Discussion (in-person & online)
Investing in Managers: Training, Tools, & Support in a Remote Environment
April 19, 2023 | 11am - 1pm EDT
HR leaders are tasked with ensuring employee engagement and productivity in a distributed work environment, and developing managers is crucial for making that happen.
Join us for a panel discussion on innovative and tactical ways to empower managers with remote teams.
Featuring:
Samantha Byrd, Chief People Officer, Ease
Meredith Nichols, VP Human Resources, Resonate
Asila Calhoun, Leadership Coach, Calhoun Coaching & Consulting
Bobby Frazitta, SVP People & Culture, RIVA Solutions, Inc.
Moderated by Caitlin Iseler, Chief People Officer & CEO, Happyly.
With guest speaker Jennifer Hicks Parulekar, talent acquisition leader.
Sponsored by NFP Insurance Solutions.
Fireside Chat (online)
Post-Layoffs & Pay Cuts: How to Take Care of the Team You Have Now
February 14, 2023 - 12pm EST/9amPST
Join us on Zoom for a fireside chat to explore managing people with mindfulness in a work-landscape of layoffs, pay cuts, and other morale busters.
Featuring:
Kim Rohrer, head of employee experience, Oyster
Blessing Adesiyan, CEO, MH WorkLife (formerly Mother Honestly)
Caitlin Iseler, Chief People Officer & CEO, Happyly
Panel Discussion (in-person & online)
Empowering & Connecting Your Team in 2023
January 11, 2023 - 11am-1pm EST
A panel discussion exploring strategies for building a collaborative workforce in a distributed corporate landscape.
Featuring:

Emily Markmann,

Chief HR Officer,

The Knot Worldwide

Dawn Mitchell,

Chief People Officer, HackerOne

Kim Shanahan,

CEO & Co-Founder, AccelHRate

Steve Picarde,

President,

PI Midlantic

Jane Seu,

Senior Client Partner,

Korn Ferry