Gather in healthy ways to promote connection and balance
The Happyly App
Empower your teams to gather in healthy ways, connect with each other, and give back to their communities with a monthly subscription!
Teams get full access to the Happyly app for around $10 per person, which includes:
15,000+ activities, locations, and Giveback opportunities
Innovative scheduling tools to create one-on-ones, team meet-ups, and company-wide gatherings
Personalized activity and event recommendations
An in-app Assistant tool to help research and plan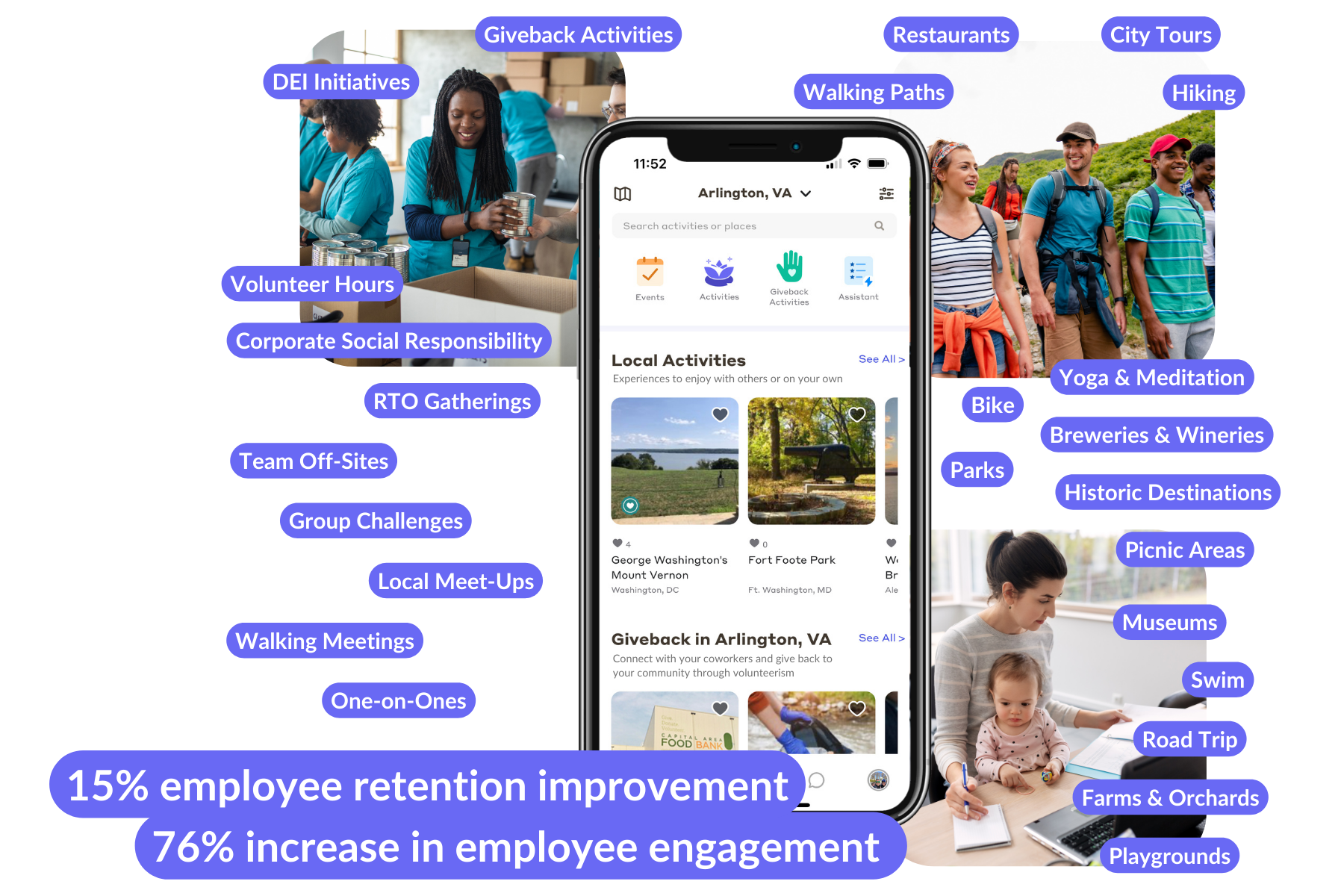 Concierge Planning Packages*
Let Happyly plan and facilitate the perfect event for your team. 100% satisfaction guaranteed.
Gather
$29+/person
Get off the video chat for a full- or half-day of connection
Happyly helps you plan a memorable day of activities in new or favorite locations. Your time together can include...
Activities to boost creativity & communication

Time to unplug & enjoy nature together

A casual snack or healthy dining experience
Give Back
$18+/person
Support your community by volunteering together—in-person or remotely
Happyly helps you find an organization that aligns with your CSR goals, plan an event, and collect feedback. You can expect...
Half- or full-day Giveback event

Frictionless planning & scheduling

Engaged team members

Stronger community relationships
*Gather and Give Back events are included in all of our custom Enterprise Plans. Get Away events and custom retreats are booked upon request.
Get Away
$4790+/person
Plan a custom leadership team off-site for goal alignment
Happyly hosts business leaders** in a casually-upscale environment for professional learning & personal growth. You can enjoy...
Leadership seminars & coaching

Outdoor activities, such as hiking, snow shoeing & sunset yoga

5-star accommodations & dining options

Massages & spa treatments
**Get-aways are limited to 10 participants.
Enterprise Plans
Let's build an annual or monthly subscription that fits your business!
Connect with us and we'll help you create a custom plan your entire organization can enjoy. You'll get:
Full access to our Happyly app for everyone, including our AI-driven planning Assistant tool
Pricing based on company size
Tracking and data reporting that's meaningful to your bottom line
Dedicated Happyly team member to help with on-boarding, planning & more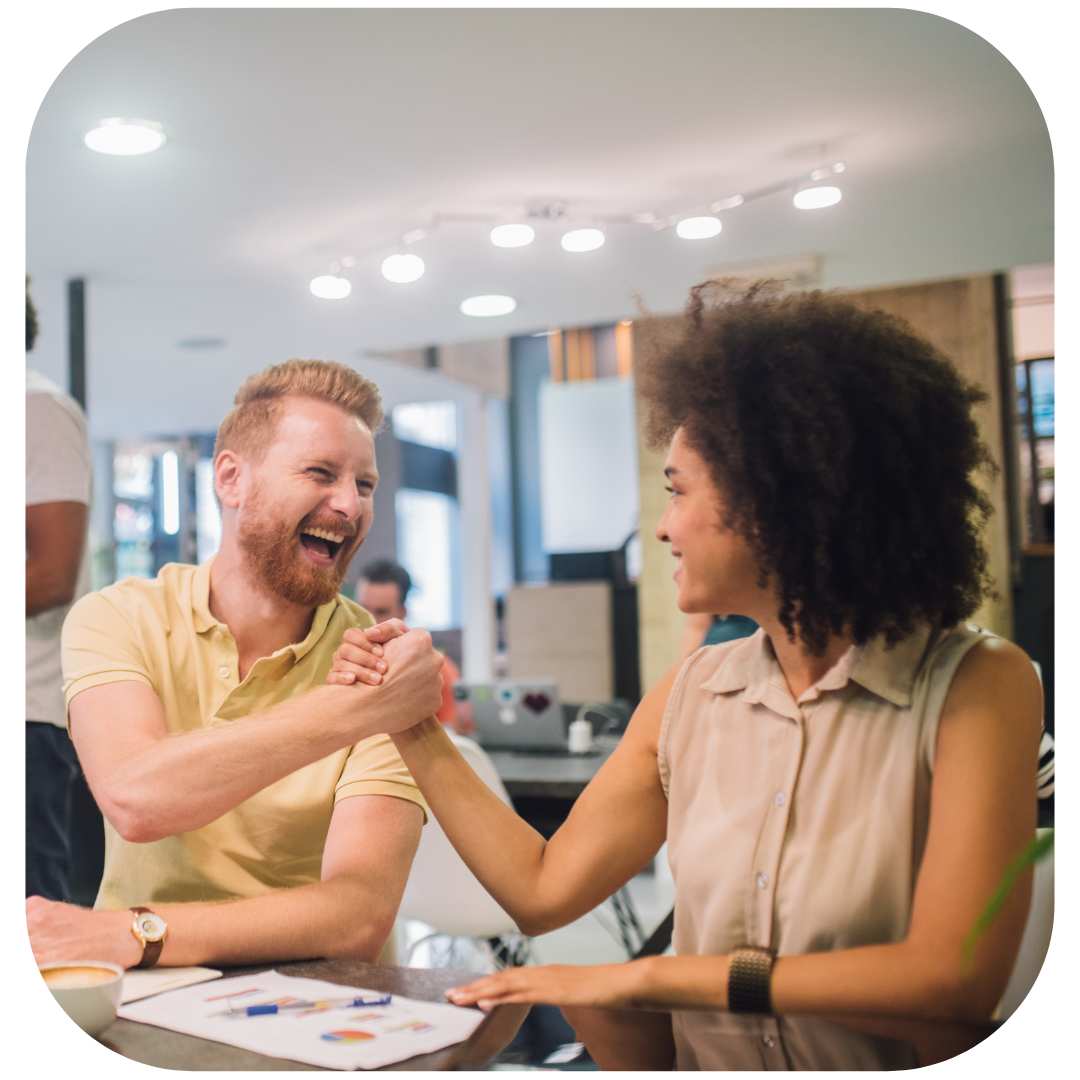 What's Included...
All of our Enterprise Plans and Concierge Planning Packages are jam-packed with features and services that make gathering and connecting easier than ever!
A Personal Host
You'll have direct access to an event host via online messaging, text, or phone to ensure your experience is incredible.
Changes & Revisions
Share your interests, parameters, and feedback with your host so that your event captures every detail you want.
In-App Assistant
Our AI-driven Assistant tool makes research, registration, and booking services a breeze. (No more chasing attendees for forms or releases!)
Invitations & Itineraries
Your attendees will receive invitations via email and text. And all the activities and details are conveniently available in the Happyly app.
Kick-off & Closing Celebrations
Every gathering begins with a hosted kick-off event to get everyone on the same page. At the conclusion, your host will collect feedback from the entire team
Digital Summary
After your event, your host compiles feedback, comments, photos and more into a digital recap for your team to revisit and share.
The Happyly App
Our mobile app allows team members to plan and schedule their own in-person or remote events using our library of curated, local activities, locations, and Giveback opportunities. (Gather, Give Back, and Get-Away packages include 30 days of app access for all attendees.)